First I did weigh in on Friday, but I didn't take a photo as I was in a hurry and already running late to physical therapy. My weight is currently 248lbs, 1lb away from where I started my pregnancy and 48lbs from my lowest weight. This is leading me to set some goals and ignore the oatmeal cookies I baked yesterday. Even if oatmeal is good for nursing mothers.
If you search for how to set goals you will find lots of options, but this cute little graphic is pretty basic and straight to the point.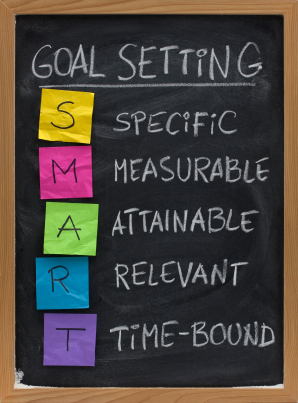 The main thing people focus on is making the goal attainable so that you don't get discouraged. Weight loss, unfortunately is not like the Biggest Loser show where you knock out 10lbs in one week. After your goals are set you get to work following another set of pretty basic steps. Which pretty much illustrates a good weight loss strategy.
Where does that leave me, it leaves me with goal setting which I think I have for weight loss.
Specific
: Lose 90lbs - 51 to go, 39 down
Measurable
: Weight in pounds, and how I look in photos. pre photos have been taken
Attainable:
I will break the big goal into smaller goals
Relevant:
Weight loss will not only help me with my running, but will make me a better and healthier mom and wife. It will help to set good examples for my girls.
Time-Bound:
Goal date, Aug 2. That is my kiddos birthday. 9 months to gain, 1 year to take it off. :)
Goal has been set - CHECK
Next step is to
make a plan
. My plan is to lower my carb intake, eat less packaged foods and get back to running.
Get to work:
well, that is easy. The next
step stick to
it is the tough. How do I plan to stick with it. Step one is to get back to daily blogging. It might be boring, but its my way to help keep me accountable. This blog was started as my journal to run a half marathon, now it will be here to help me lose the weight.
There you have it. Weight loss goals have been set - first mini goal is lose 8lbs by the end of 2013. My goal is to go into 2014 at 240lbs or less. Next up, figure out my fitness goals for 2014. I have not signed up for any races, I have not figured out what I want to do yet. Do I do more halfs, do I work on getting faster? The year of the 5K does sound appealing less time commitment and more time to spend with my family.
Have you set goals for 2014 yet?