Sunday's run really took a lot out of my emotionally and physicallly. Not just because my back acted up and made it near impossible to complete the 8 miles. But along the way that nasty thing called self doubt crept into my head and started bringing up all of my failures.
Why are you not under 200lbs yet, you should have this figured out?
Why are you not running faster? How long does it take for you to figure it out?
Why can't you give up sugar, you know that is making you fat?
Why did you buy more running skirts when you suck at running?
Why don't you just give up?
I already signed up for a bunch of race, how am I going to do them?
You hate running, while do you do this to yourself?
It took me until today to tell that voice to shut the hell up. The physical part of that 8 miles has me still in pain today, my hips and my shins are both hurting. I feel like I have never gone that distance before, like this is my first time training for a half. Clearly my lack of running outside this cycle is giving my body hell. At the end of the day self doubt is still there and I just need to look past it and remember how far I have come. I wrote this yesterday and this morning I didn't want to post it. After some thinking I figured whats wrong with being honesty and not always showing the rainbows and unicorn side of me.
Now back to my regularly schedule program.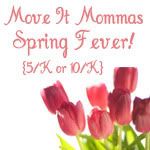 Instead of running away from running I am attacking it head on by adding another race to my plate. Might not be the best thing, but what do I have to lose? Virtual race that is. Looking for a Spring Virtual Race head over to
Let's Move It Momma's
and sign up for the Spring Fever 5K or 10K run. It's free, but you must contact her to sign up and then email with your results. The run can take place any time between March 1st-15th.
Hope you have a wonderful Tuesday!