Totally not fitness related, but heck we all have to branch out sometimes. I guess I could circle this thought back to fitness.
Did you hear?
Ben and Jerry's came out with a limited edition ice cream.
Whats the name you ask?
Well according to their
website:
Queue.....inappropriate jokes. Now you ask how does this circle back to exercise, well if you are a man reading this - eeh I am sure you have had this issue from working out. If you are women - lets just say stay away from this Ben and Jerry's as I am not sure the conversation about how you have to work off your ice cream....Schweddy Balls is a conversation you want to have. Well unless you are
Rose
and talking to her trainer.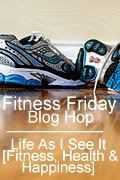 This weekend I have the Iron Girl 10K in Seattle. The weather is supposed to be amazing and I am looking forward to it.
Anyone else racing this weekend
?
Hope everyone has a great Friday don't forget to Blog Hop!