I am pretty sure I used that title before, but it is true. I am so happy it is Friday any one else with me, even if we have an extremely busy weekend. Saturday we have the Seattle Brain Cancer Walk on and then I drive up to my friends house for a sleep over. Because on Sunday we am running the Bellingham Bay 5K.
Last night I jumped on the treadmill and did a very slow 3.5 miles. My ankle survived! I made sure to ice afterwards and it was feeling great when I finally made it to bed. On deck for Friday, try to fit a Spin Class and then a short run to make sure the ankle is still feeling good.
Also as always another big thank you to all of my followers! I seriously can't believe that I have reached 100+ followers and I will be having a giveaway soon in honor of that!
If you are racing, training or just enjoying the cooler weather for a run this weekend have a wonderful time. Don't forget to Blog Hop Friday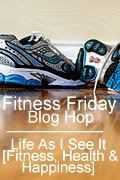 .