Happy Friday! Last night I finally got my hair cut after like 6 months, it could have been longer. I just had her clean it up and take about an inch of all around. Don't mind the black eye look, after work I tend to rub my eyes and get all sexy with rubbing my mascara around. I also have terrible bags that I get to blame on genetics, oh well. I posted this photo to my facebook and said that I really didn't want to workout. No one motivated me to run, but after putting the little one to bed and doing some prep for today I finally made it the treadmill around 8:30PM.
My legs were not having it. I think it was a combination with not drinking enough water yesterday and this being day 11 of some sort of workout. I am in desperate need of a rest day, Saturday cannot come fast enough. I hopped off the treadmill after 3 miles and opted to finish up with a little weight work.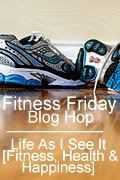 This weekend we have local festival - Salmon Days. This will consist of a parade on Saturday and then walking around the festival area.....Saturday was my rest day. Sunday is the Salmon Days Run, for the past few years I have done the 5K, but this year I will be running the 10K I am thankful it is flat, but am considering switching to the 5K, since my last 10K was a little miserable.
I can't believe that today is the last day of September. This month has been fun, I need to work on my recap and goal for October. In the mean time check out my giveaway from
Active Band Giveaway - Here
ends 10/4 and then have a Happy Friday Blog Hopping.