A while back I won a give away on
Run with Jess blog
. What did I win you ask - I won a credit to
Family Fun Club.
The folks and Family Fun Club make shirts, thanks, sweatshirts or basically whatever you want, with whatever you want on it. After some communications between the two of us I decided on my new top. I checked the mail tonight and it had arrived! I totally love it and I can see it being the item I wear a lot this fall when training for my half or just lounging around the house! Love it! If you need a shirt made they are the way to go.
I woke up this morning feel run over by a truck. My ears are plugged and I think I was swallowing swords last night as I barley have voice. I am worried about running my 10K on Sunday. I have 4 miles to run today and I am going to see how I feel afterwards, I figure it can go either way. Feel freaking fantastic or feel like death so its worth a shot. :) Unless I wake up feeling great on Saturday I am going to skip Spin Class to save my energy for the 10K. Its such a fine line to walk when you are sick.
The final weight loss for the week is 3lbs! I am beyond excited and plan to stay on track this weekend instead of cheating all weekend and then fighting for 5 days to lose the weekend gain plus more.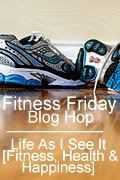 I hope everyone has a great weekend. Linking up today - Fitness Friday Blog hop over at Life..As I See It.